Hello Everyone, welcome back to Manjiri's Foods..
So, friends, Jowar Dosa Recipe For Weight Loss is a perfect breakfast recipe for people who are on their weight loss journey. I have mentioned in my posts a number of times that breakfast is the most important meal of the day. And making it healthy is essential. If you are looking for such a healthy breakfast, I have come up with a unique South Indian Breakfast recipe. Yes, another dosa recipe today.
Ingredients:
For Dosa Batter:
Jowar or Sorghum: Two bowls
Urad Dal: One bowl
Rice: One bowl (Optional)
Thin Poha: Half bowl
Salt: As per taste.
For Potato Bhaji:
Potato: 5-6 medium or as required
Green chilis: As per the spiciness required
Onion: One big
Green peas: Half Bowl (Fresh or frozen) (Optional)
Coriander Leaves: 3-4 tablespoons chopped
Salt: As per taste
Tempering: Oil, Mustard, Jeera, Haldi, Hing, Urad dal, and Kadi Patta
Jowar or Sorghum is a healthy grain and is one of the best millets for diabetics. Jowar is packed with a good amount of fiber which helps your digestion, manage obesity, regulate blood sugar levels and curb the risk of high blood pressure and strokes. Jowar is a gluten-free grain and that is what makes it an excellent food for people who have gluten intolerance. Jowar is full of vitamins, minerals, and other essential nutrients such as calcium, fiber iron, phosphorus, and protein.
20 Hours Including soaking and Fermenting
Soaking Grains
Wash and soak Jowar, Urad Dal, and Rice separately for 4-5 hours.
Soaked and Drained Grains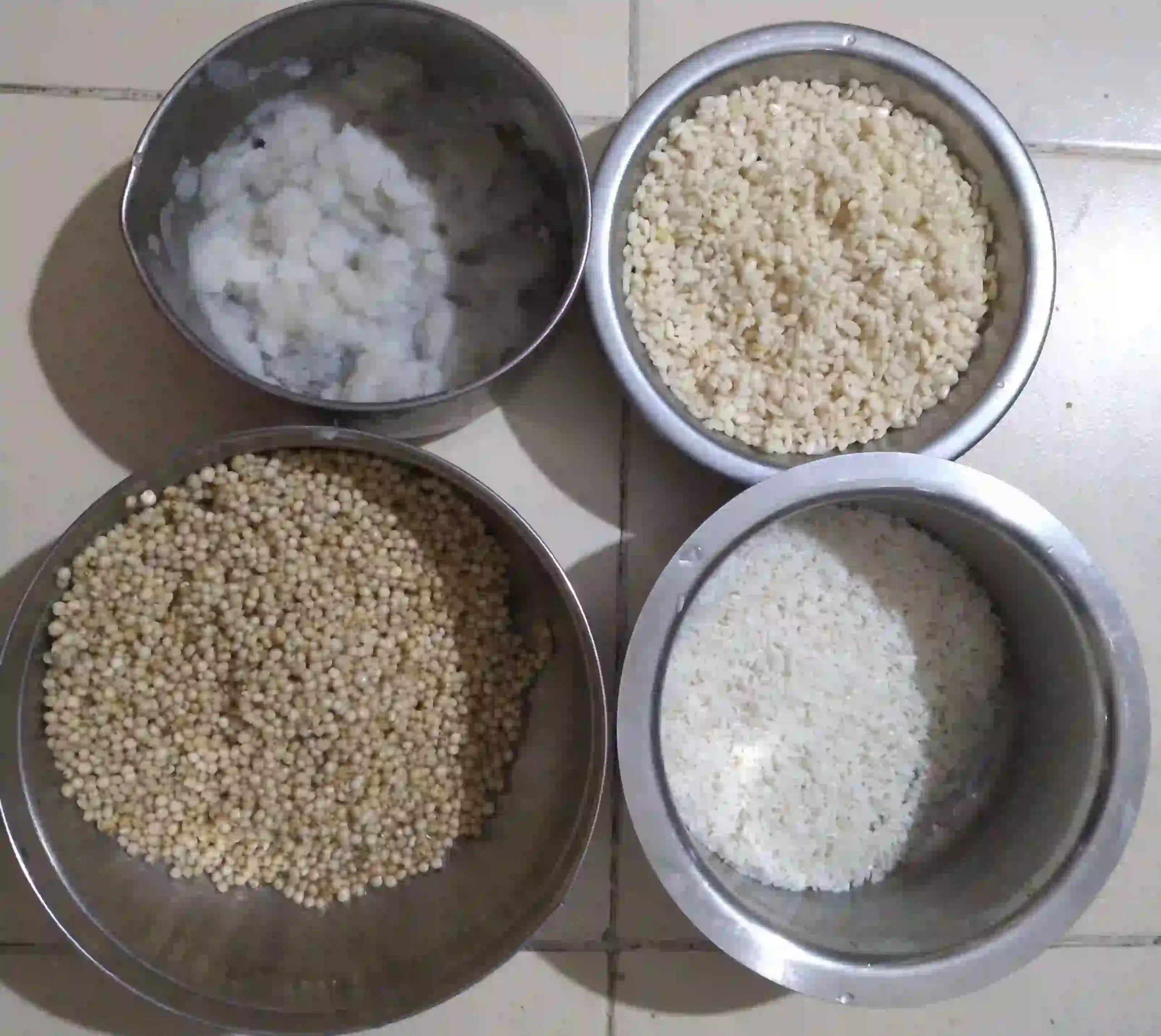 After 4-5 hours drain water from soaked grains. In a bowl soak one bowl of thin Poha or flattened rice for 10 minutes before grinding.
Grinding the soaked grains.
Grind the soaked grains one by one to make a soft and smooth batter. Keep rice a little coarse.
Fermenting
Keep the batter for fermentation overnight or 8-10 hours.
Adding Salt
Add salt as required to the fermented batter and mix it gently.
Making Dosas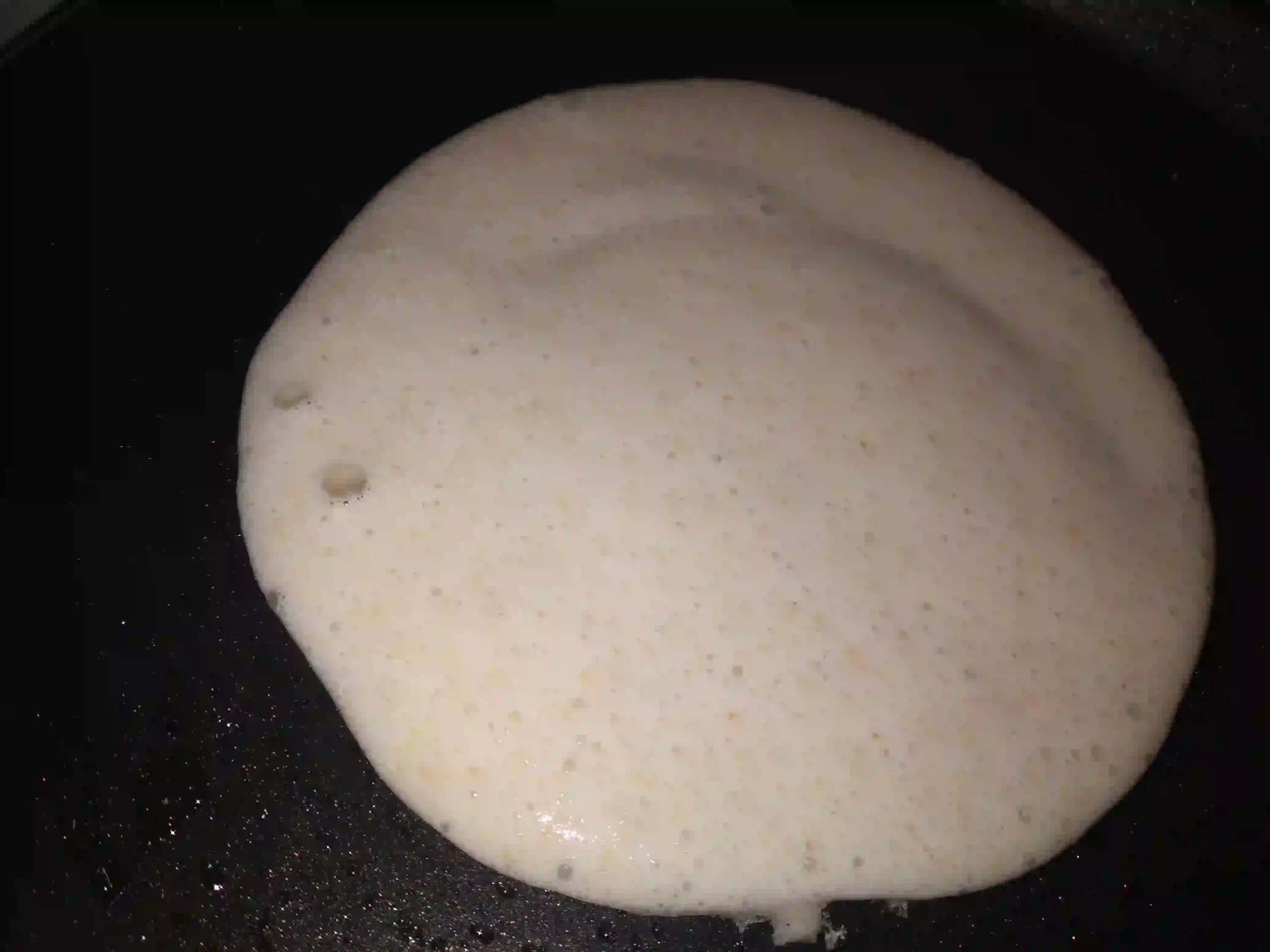 Heat the Tawa and sprinkle oil on it. Take a paddle full of batter and pour it on the Tawa and spread gently. Roast it for 2-3 minutes and flip around.
Potato Bhaji Ingredients
Boil potatoes till they are soft. Chop onions and green chilis finely.
Tempering
In a pan add 2-3 spoons of oil, then add mustard, jeera, white sesame and urad dal. Splutter them.
Sauteing
Add chopped onions and chilies. Saute them till the onions are translucent. Then add peas and saute for one minute.
Adding Potatoes
Add boiled and mashed potatoes to the pan. Add salt and sugar as per taste, and give it a good mix.
Potato Bhaji
Add sufficient water and cook for five minutes on low flame. Tasty potato bhaji is ready to serve. Garnish with chopped coriander leaves and a piece
Preparation
Dosa Batter
Firstly, wash Jowar several times till the water is clear and soak in water for four hours. Wash rice and Urad dal also and soak them separately for four hours. Wash and soak thin Poha for five minutes or just before grinding.
Secondly, drain the water from soaked Jowar, dal & rice. Grind them one by one to form a fine paste. Add thin Poha while grinding rice. Transfer the batter into a large vessel and give it a good mix. Cover the lid and leave it for fermenting for 6-8 hours.
Thirdly, Once the batter is fermented add salt as per taste and mix properly. Adjust the batter consistency by adding water if required.
Potato Bhaji:
Boil potatoes until they are soft. Peel the skin, mash and keep them aside.
Cut onion and green chilis.
Wash coriander leaves and chop finely
How to make Jowar Dosa Recipe for weight Loss | Batata Bhaji
Potato Bhaji:
In a Kadai or pan put three teaspoons of oil and add Urad dal and tempering ingredients. Splutter them.
Add chopped green chilis and onion and sauté them till onions are translucent.
Add green peas and saute them for a minute.
Then add mashed potatoes, salt and sugar. Mix all properly.
Add sufficient water to make it like gravy. Bring it to boil and keep it aside.
Jowar Dosa:
Heat the Tawa and apply oil.
Pour one ladle of batter and spread evenly.
Roast the dosa for two minutes and flip it and roast the other side.
Repeat the procedure for the rest of the batter.
Serve hot with chutney, sambhar and Potato bhaji.
Did You Know?

Jowar and Urad dal are rich in proteins hence a perfect for weight loss.
Human body needs around 48 per cent of fiber on daily basis. Fiber adds bulk to the stool and thus helps it pass smoothly through the digestive tract.
Jowar contains a high amount of fiber, it helps in digestion, it prevents problems like gas, bloating, constipation and diarrheas'.
Is Jowar better than wheat?
Roti made with Jowar is a healthy and nutritious alternative to whole wheat roti. Because it is protein-packed and fiber-rich it keeps you satisfied, delays digestion prevents unwanted cravings and regulates blood sugar levels.
Is Jowar good for weight loss?
Jowar or Jowar flour is good for weight loss as it is a rich source of fiber. Fiber-rich foods like Jowar help us to feel full for a longer time and curbs hunger. Which ensures that our digestive system is optimally functioning.
How do you eat Jowar?
Jowar is the staple food in Karnataka and Maharashtra. Bhakri or Roti made of Jowar flour is the main course in most of the houses in these states. Apart from bhakri Jowar flour is used to make dosas, Thali Peets and Vada.  Whole Jowar grain is grounded coarsely and used in to make porridge (Called as "Nuchu" in Karnataka and "Kani" in Maharashtra). Jowar is gluten-free hence is best for gluten intolerants. The grain is fairly neutral in flavour, and sometimes slightly sweet.
What is easy to digest wheat or Jowar?
Jowar is very light for digestion and easily digested and is well tolerated by the human body. It is rich in starch and protein. As it slows down the process of digestion it is said to regulate the release of glucose in the blood.
How Jowar is helpful in losing weight?
The high amount of protein in Jowar helps in building muscles and cell regeneration. Which induces a feeling of fulness by curbing hunger for a longer time. Which in turn helps in weight reduction. If you are looking to lose weight, you must include or add Jowar in your diet instead of wheat.
Try our other recipes:
I hope you are going to try this recipe. If you made this comment and tell me how you liked this recipe.

Please SUBSCRIBE to my blog so that you won't miss any recipes in the future.
Also, don't forget to follow me on
Facebook Twitter Pinterest Instagram LinkedIn

Subscribe to my YouTube Channel..
Aadya's Creation :

See you in my next recipe; till then Eat healthily and stay healthy..

See you..