Pudina Rice Recipe or Mint Rice Recipe is a flavorful rice recipe with Pudina and Mixed Vegetables.
Hello, Everyone welcome back to Manjiri's Foods
I love recipes made from fresh herbs. Because they transform a simple dish into a super delicious one, just by their presence. Fresh mint or pudina, dill, cilantro or coriander and parsley are my favorites. Pudina leaves are used in many Indian recipes in order to give a distinct flavour, and they are considered to be one of the most popular herbs in India. Pudina is a fragrant herb widely used in Indian cuisine to make chutney, Curry, Biriyani, Pulao and so many other rice dishes.
Today, I am going to show you how to make an easy and flavorful Pudina Rice recipe made with mint leaves, coriander leaves and mixed vegetables. It is a very tasty and easy lunch box recipe from fresh pudina leaves which can be served as it is or with curds or raita. Pudina Rice or Mint Rice has a cool refreshing taste. Hence it is a very popular recipe in Indian cuisine.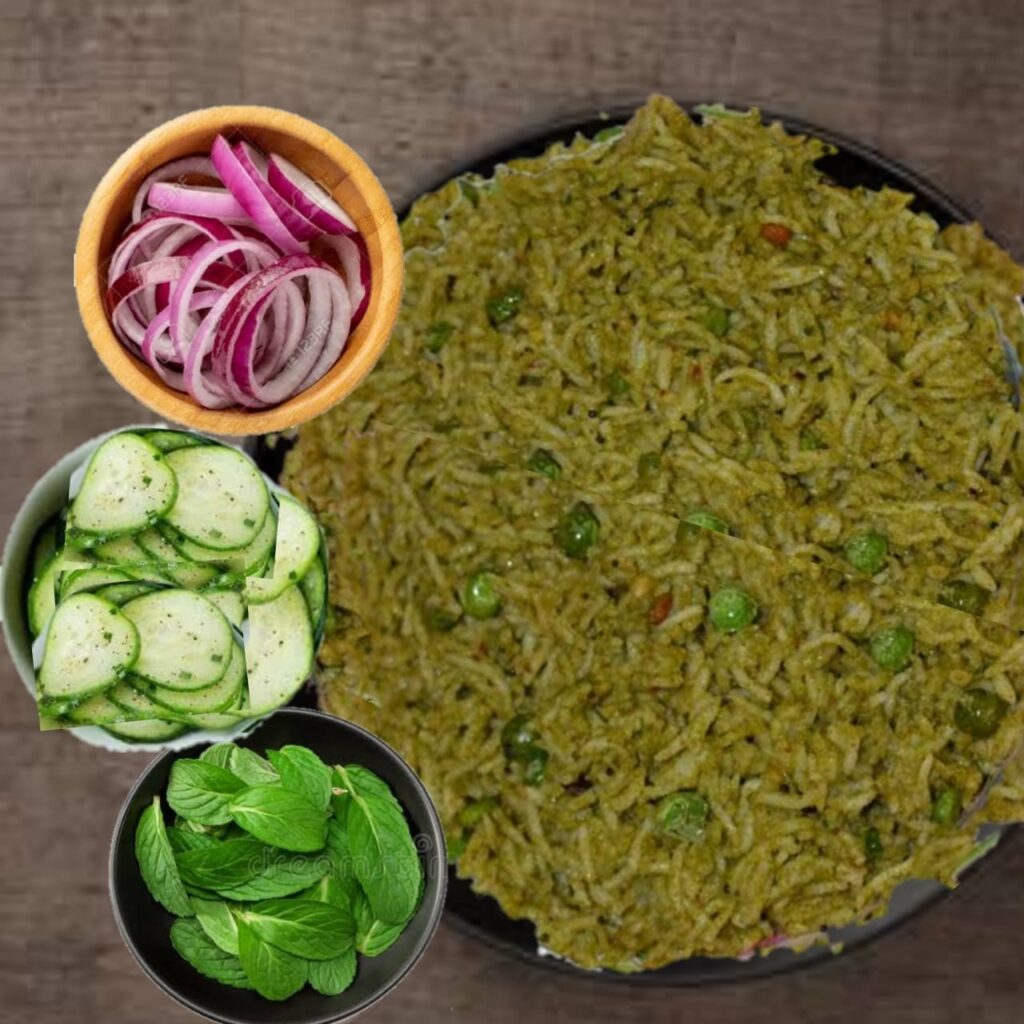 Cuisine: South Indian
Servings: 4
Preparation: 10 Minutes
Cooking Time: 15 Minutes
Type: Lunch, Dinner or Lunch box.
Served with: Raita, Dahi or gravy.
Main Ingredients:
Pudina Rice:
Pudina or Mint: A half bunch
Rice: Two bowls
Coriander: A handful
Green chilies: Three to four (As per the spiciness)
Onion: One big
Garlic: Four to five cloves
Ginger: Half inch
Kadi patta: one string
Carrot: One small
Beans: Half bowl
Potato: One big
Shimla Mirch: One small
Cauliflower: half bowl
Oil: Four teaspoon
Salt: As per taste
Water: As per the rice used.
Tempering ingredients: Mustard, jeera, Hing, white sesame and kadi Patta.
Dry Masalas:
Cinnamon: One inch
Cardamom: three to four
Poppy seeds: One teaspoon
Cloves: three to four
Bay leaf: One
Making Pudina Rice Recipe:
Preparation:
Wash and soak rice for half an hour.
Wash all the vegetables and cut them into small pieces.
Wash pudina and coriander.
Slice the onion and remove the skin from the garlic.
Cut or grate the ginger.
Making masala paste:
In a mixer jar add pudina, coriander, onion, green chilies, garlic, ginger and all the dry masalas.
Add half a teaspoon of salt and very little water and grind it to a fine paste.
How to make Pudina Rice Recipe:
In a pressure cooker add four teaspoons of oil.
Once it is warm add tempering ingredients and splutter them.
Add cut vegetables and sauté them for one to two minutes.
Add soaked rice after draining the water and sauté for two minutes or until rice becomes dry.
Then add the pudina masala paste and mix it well. Sauté for two minutes or until the raw smell goes.
Add four to four and a half bowls of water. (Water measurement is based on the rice you are using. Some variety of rice needs more water and some require very little water to cook)
When water starts boiling add salt as per the taste and covers the lid.
Cook for two to three whistles.
Serve hot with plain curds or raita. You can have it as it is.
40 Minutes
Washing and Soaking Rice
Take two bowls of rice. Wash it and soak for half an hour.
Cutting Vegetables
Wash and cut vegetables into small pieces. Here I have taken Carrot, Potato, Shimla Mirch, Cauliflower and French Beans. You can add veggies of your choice.
Making Masala Paste
Take dry masalas like Cinnamon, Cardamom, Poppyseeds, Cloves, Pudina, Onion, coriander, green chilies, garlic, ginger and salt.
Making Masala Paste
Add all the ingredients to a grinding jar and grind to make a fine paste.
Making Tempering
In a pressure cooker put three-four spoons of oil and add tempering ingredients. Splutter them.
Sauteing Vegetables
Add cut vegetables to the tempering and sauté them for two minutes.
Adding Rice and Roasting
Add soaked rice and sauté for two minutes. Then add the ground masala paste and fry until the raw smell goes.
Adding Water
Add water as required by the rice variety used. bring it to boil, add salt and cook for two to three whistles.
Pudina Rice
Add water as required by the rice variety used. bring it to boil, add salt and cook for two to three whistles. Serve hot with raita or curd. Or have it as it is.
Health Benefits of Pudina or Mint leaves:
Pudina is a very healthy herb that has multiple health benefits. It is full of antioxidants. This property of pudina is good for blood flow, it also relaxes muscles and calms anxiety and stress.
Pudina pulao is highly beneficial during indigestion as it is a good source of antioxidants and phytonutrients.
It is also served for a common cold or running nose problems.
Mint leaves are a good source of vitamin and minerals which are beneficial in helping to improve the immunity and keeps you safe from inflammation.
FAQs…
What is Pudina rice or Pulao?
Pudina rice recipe or pudina pulao (mint pulao) is a healthy rice recipe that is prepared very easily.  Pudina leaves are grounded with coriander and whole masalas, green chilies and then added to rice and other vegetables and pressure cooked.  This pulao recipe can be served as it is or with plain curds or even with onion tomato raita.
What can be made from Pudina?
Pudina is a fragrant herb that is widely used in Indian recipes to make chutney, curry, biryani, pulao and a lot of rice dishes.
 
Is Pudina cold or hot?
Pudina or mint plant has a chemical called menthol. Menthol is the substance that gives pudina a unique flavor. Menthol acts as a cooling agent in our body. So pudina is considered as cool or cold.
 
Try these recipes from Manjiris Foods
Explore our collection of Vegetarian recipes, Rice recipes, Breakfast recipes, lunchbox recipes, Gravy, south Indian recipes, quick recipes, North Indian, Curry, Side dishes, parathas, sweets and desserts and many more…
I hope you are going to try this recipe. If you made this comment and tell me how you liked this recipe.
Also don't forget to follow me on Facebook, Twitter, Instagram, LinkedIn and Pinterest.
Subscribe to my YouTube Channel…
See you in my next recipe; till then Eat healthy and stay healthy…